KEPSA and IDC: Market Expansion
Breakfast meeting between KEPSA and IDC at KEPSA's Headquarters (Nairobi)
The International Development Center (IDC)'s delegation led by Mr. Fabrizio Cardillo (CEO of International Development Center) met Kenyan business entrepreneurs for the official presentation of MACFRUT 2015 and Flora Trade Show 2015, trade shows slated for the 23rd to 25th of September 2015 in Rimini (Italy).
Breakfast meeting between International Development Center (IDC) and KEPSA was held on 23rd of June 2015, at the offices of KEPSA's Headquarters in Nairobi (Kenya).
Mr. Fabrizio encouraged Kenyan producers seeking to take part in the MACFRUT 2015 Expo to organize themselves into a delegation of between 25 and 30 companies to enable them set up a Kenyan pavilion. Mr. Fabrizio says Italian and European investors taking part in the Expo are eager to take up new investment opportunities through business to business partnerships a factor that will work to Kenya's advantage.
For more details read the article published on KEPSA's official web site.
See the video about Breakfast Meeting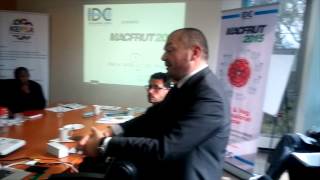 Photo gallery