IDC meets Maroni to the business forum in Italy-Kenya at Palazzo Lombardia in Milano
Kenya is an example of development for Africa
Was also present the CEO of IDC Fabrizio Cardillo at Italy-Kenya business forum in Milan by the Lombardy Palace. He was together with the Governor of the Lombardy Region, Roberto Maroni and entrepreneur Flavio Briatore.
Trade almost doubled in 10 years, imports to $ 229 million, an increase of 97%, exports to our country by 24% every year. They are the numbers of trade between Italy and Kenya, the center of the Business Forum, which involved the two countries in Milan, at the Palazzo Lombardia: to open the proceedings the Governor of the Lomabardy Region, Mr. Roberto Maroni, and the President of Kenya, Mr. Uhuru Kenyatta.
Maroni: "Kenya is an economic development model for Africa and we are very interested in strengthening relations and trade and economic relations: I sign an agreement with the region of Malindi to invest in commercial relations, tourism and culture."
The Business Forum is part of the week of events in Milan to discover the African country began with the celebration of the Kenya National Day at Expo 2015. Events that highlight the legacy of the Universal Exposition, which runs from 31 October.
Fabrizio Grillo, general secretary of the Italian Pavilion, explains how it can grow the relationship between the two countries: "There are many sectors, from food to tourism, infrastructure and buildings, is really a very wide platform for investment."
The interchange between Lombardy and Kenya in 2014 is nearly 50 million, including 42 million export and import 5.3 million.
Among the stars of the day , Mr. Flavio Briatore, who has a a luxury resort with 26 apartments in Malindi: "We need to increase transportation, have planes that fly in Kenya: Italy accounted for 70% of tourists and there is not a direct flight. This seems absurd to me. "
Credits:
Article and original video here: http://goo.gl/4XPfDI
Video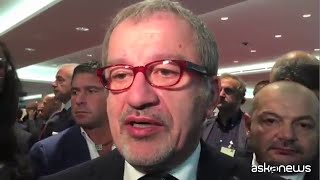 Photo Gallery